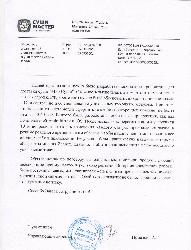 Our organization needed to develop a mobile app for delivering our sushi. The challenge we were faced with was that we have a network across various cities of the Russian Federation. Furthermore, we needed to ensure synchronization not only between 1C software and the website, but also with a special unique kitchen module. Meanwhile, we needed our customers to be able to place orders without third-party help in less than 40-60 seconds. They ended up developing mobile apps for both Android and iOS users. After several sessions of negotiation, we further complicated the technical specification and requested that the changes be reflected of each order completion status in real-time in such a way that our customers could see all the stages on their app. Zennex company had enough resources and enough of a practical skills base to perform our rather complex assignments on time.
They fulfilled their obligations according to the agreement and we got a product that provided us an indisputable advantage over our competitors. While cooperating together, we maintained constant interaction, we felt "taken care of", and we were offered technical solutions that were previously "invisible to us". There weren't any disputes we had to speak of with them and I don't see any issues in its operation.
Thank you for your cooperation!
Regards, A. Pomazkin